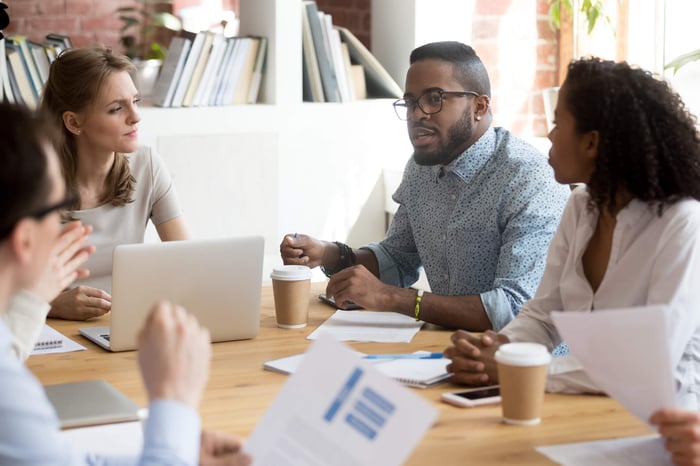 According to Investopedia, the total cost of an employee is 1.5 – 3 times his or her salary due to the many costs associated with recruiting, hiring, training, and maintaining employees.
When these costs are not addressed and relieved, they can significantly cut a growing company's bottom line. In small businesses that do not yet have a dedicated HR administrator, this problem is typically even worse.
When you optimize human resources, you increase the productivity of whoever handles these tasks, and that lowers costs.
Here are eight steps to take to accomplish this optimization:
1. Prioritize HR Tasks by Value and Urgency
Determine the value and urgency of each task by asking the following questions:
Can someone else do this task better or less expensively?
When does this task have to be completed by?
Do resources need to be shifted in order to accomplish this task?
What is the consequence of this task not being accomplished on time?
The answers to these four questions provide some insight into value and urgency. However, in some cases, not all answers will be aligned. For instance, a task may be able to be done for a more affordable price, but no resources exist to have the task done by the due date.
When this is the case, urgency must be weighed against value. It may be better to do a task more expensively in order to have it done by the due date. However, if there is no consequence of missing the due date, shifting the task's timeline is the best option.
2. Supplement Existing Administrative Employees
The administrative burden that comes with HR strains the resources of even the biggest companies. To keep your employees focused on revenue-generating and otherwise essential tasks, outsource jobs that do not require in-house management. This leads to a more efficient use of human capital.
Businesses outside of California can hire freelance HR administrators (recent California laws limit a business' ability to hire freelancers who do the jobs that the company already pays employees for). However, as more freelancers are added to a company's roster, more paperwork will pile up that freelancers were meant to relieve. Payroll becomes even more difficult when a company has both full-time and freelance employees.
3. Plan for a Scalable HR Team
HR tasks seem simple enough when a company only has a handful of individuals. But what about when the company has a full HR department handling dozens of employees who will need worker's compensation, 401(K) plans, and regulatory compliance with the Fair Labor Standards Act (FLSA)?
Hiring more hands does not necessarily solve the problem. Understanding the federal, state, and local regulatory landscapes takes specialization. While hiring HR staff can help deal with administrative burdens, a full-time HR regulatory expert will cost a lot of money while only being needed occasionally.
Adding more full-time employees or freelancers leads to more work which will then require more hires. The solution is to find an HR partner who can handle administrative duties without adding administrative burdens to the HR department.
4. Ensure that Any Potential Outsourced HR Partner Does Not Create Liabilities
Find out how your potential partner handles cybersecurity and overall data safety. Also, consider how hard it will be to part ways if the relationship doesn't work out.
You should also be sure that the addition of an outsourced HR partner won't disrupt your company culture all that much, or preferably, at all.
A flexible partner improves employee engagement and avoids many hiccups compared to one that tries to make you adjust to their proprietary system.
5. Check the Certification of Potential Outsourced HR Partners
A certified HR outsourcing partner is known as a "certified professional employer organization," or CPEO. In order to gain CPEO status, the HR partner must undergo a strict application process and review with the IRS. Each year, the HR partner must get recertified.
While only a few HR partners are certified, the advantages of certification are enormous. If a company decides to start or stop doing business with an HR partner, there is no wage base restart or extra employment taxes. This is even though the loss of the HR partner changes the company's Federal EIN number.
CPEOs can apply for R&D payroll tax credits for their partners. They also become the only liable party when it comes to payroll taxes.
6. Minimize Regulatory and Compliance Costs
Keeping up with regulations takes time and money, and one paperwork error can result in a costly corrective process. Over the past 20 years, private wage and hour disputes have increased by 450%. In Texas, violations of the Fair Labor Standards Act (FLSA) since 1985 total over $250,000,000. This trend exists across industries from retail and construction to healthcare and social assistance.
The FLSA is just one level of federal regulation faced by employers. The Occupational Safety and Health Administration (OSHA) has its own set of regulations. Even if the employee is undocumented, the Department of Justice will investigate to ensure no violations occurred.
Once federal regulations are handled, HR has to deal with regulations on the state level.
So, if you don't have a dedicated HR regulatory expert, make sure your HR partner has them on staff to reduce the risk of fines.
7. Lower Your Health Insurance Costs While Maintaining Benefits
Employees are demanding more and better health benefits from fitness reimbursements to health coaching. At the same time, the average premium paid for a family plan is $20,576 a year with the employer contributing, on average, $14,561.
Only 47% of firms with fewer than ten workers provide health coverage. This is partly because small firms cannot negotiate affordable prices with insurance companies. Large corporations with 1,000 or more employees can negotiate better deals thanks to their increased purchasing power.
When a company partners with an HR outsourcing firm, the company gains access to plans negotiated by that HR partner. That means that small companies can get health insurance for the same low price that major corporations get.
8. Keep Your Client Services Agreement Flexible
Flexibility is extremely important when working with an outsourced HR partner. The best partners have "a la carte" packages as well as full-service offerings. You can have them handle payroll, HR services, medical plan administration, worker's compensation, and more.
Alternatively, you can choose just payroll and HR services and have the HR partner work with your existing providers for the rest.
It is essential to make sure that ending the arrangement will not cause you undue hassle. All data should be transferred to you, and there should be no exit fees as long as you give reasonable advance notice. Many agree that 60 days' notice is enough.
An outsourced HR partner can bring you many cost optimization benefits. However, it's essential that you do due diligence so you choose the right one. A mistake in selection can lead to data security risks and more administrative costs than if no partner were involved.
Conclusion
Optimization comes in many forms from relieving administrative burdens and outsourcing to lowering health insurance premiums through HR partnerships. When accompanied by due diligence and flexible arrangements, HR partnerships both cut costs and reduces risks by ensuring compliance with federal, state, and local regulations.
When HR is optimized, obstacles to focusing on business performance decrease drastically. Instead of increasing workloads, HR optimization lowers the amount of work while raising the quality of employee benefits. This allows you to attract the best talent and keep them focused on valuable tasks instead of administrative busywork.
About the Author: