The choice to outsource with a professional employer organization (PEO) means increased competitiveness and growth. Questco takes this to the next level. We have 35 years of experience providing flexible, customized services to our clients. In fact, we have one of the highest customer satisfaction scores in our industry.
One thing that makes us stand out is how comprehensive our support teams are. Each client gets their own Support Squad and access to professionals with expertise in every area of human resources.

Your Support Squad Awaits
When you become a Questco customer, we will put together your support squad. Some of these people will be dedicated, while others will be shared due to the fact that you will not need all of their time (which is one way Questco saves you money!)
Dedicated Payroll Specialist
While we are far more than a "payroll provider," each client is assigned a dedicated payroll professional. This person will not just process and file your payroll taxes; they are always ready to answer all of your and your employee's payroll questions. Your payroll specialist will make sure that everything is done accurately and on time.
Dedicated HR Specialist
While Questco does not aim to replace your in-house team, we assign each client a dedicated, trained HR professional. They can handle HR matters from the simple to the complex, advise your in-house team, and work with you to make sure that your employees are happy and your company gets the support it needs.
Dedicated Client Success Manager
What's a client success manager? Your client success manager is your contact point for all non-payroll questions and needs. They will answer your questions as quickly as possible, ensuring that you are directed, if needed, to the right person.
They are your Questco cheerleader who will help you get the most out of our services.
Dedicated Benefits Specialist
Your benefits specialist is there to answer all questions your employees might have about their benefits and to help new employees navigate your offerings. They handle all of the routine benefits administration so you don't have to. Your HR team will not need to worry about questions regarding eligibility or additional benefits.
Dedicated Benefits Account Manager
Your benefits account manager helps you strategize which benefits will best support your employees while allowing your company to thrive. They will assist with renewals, design your plan, and help make sure that you are getting what you need.
Because we are able to negotiate benefits at scale, your account manager can help you get better benefits for your employees than you ever thought you could afford.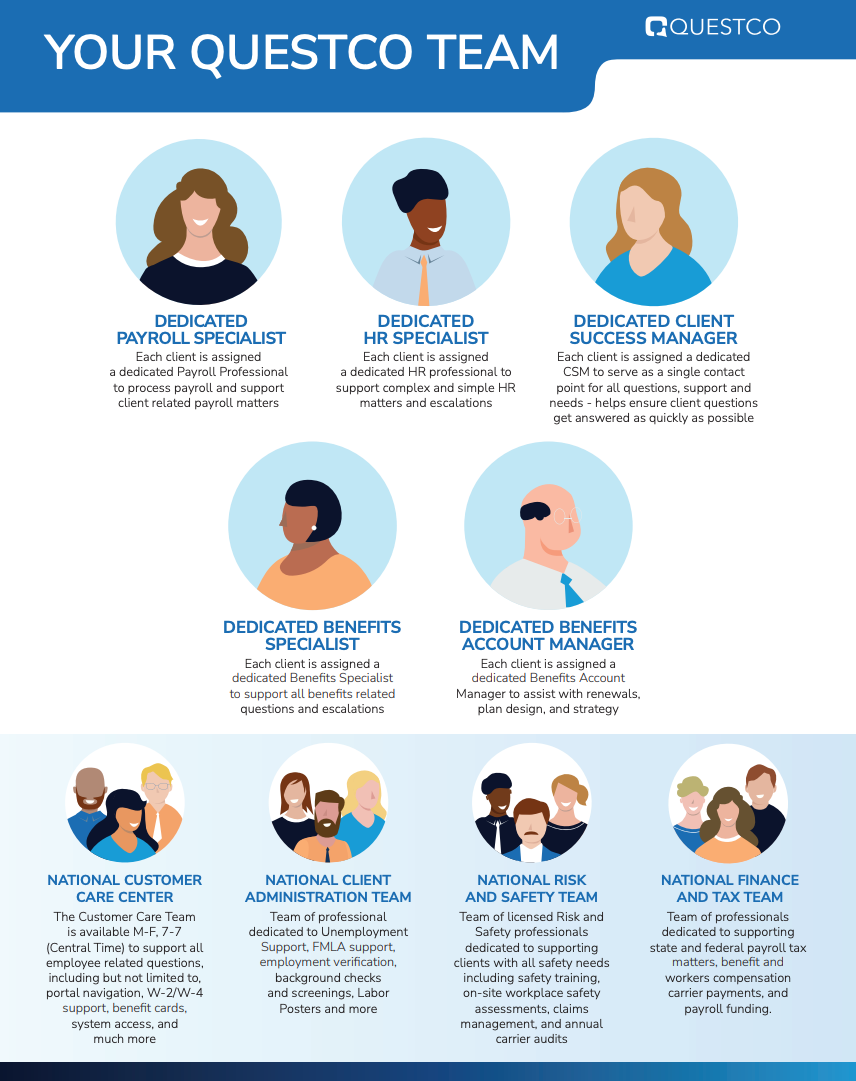 National Customer Care Center
Our customer care center is not outsourced or shared with any other company. Instead, we have people available Monday through Friday, 7am to 7pm, to answer every question your employees might have about dealing with Questco. They can help with technical support and user support related to our portal and electronic systems.
National Client Administration Team
Our client administration team means you have access to every bit of expertise you need without having to hire more people. We have teams dedicated to supporting unemployment insurance, employment verification, posting the right labor posters, etc.
Every time you need something that doesn't require a full time person, it goes to one of our national teams to be taken care of. This means you effectively have a full-time person to handle everything, while only paying for the part of their time you need.
National Risk and Safety Team
Risk mitigation and management are something most small businesses don't devote enough resources towards. Turn to our team of licensed Risk and Safety professionals. We can help you put together safety training, deal with workers' compensation claims and audits, and handle all of your safety needs. Because of this, our clients pay less for workers' compensation.
Our focus is on ensuring that your workers are safe. That reduces downtime, turnover costs, and workers' comp insurance premiums.
National Finance and Tax Team
Our tax professionals help you with everything connected to state and federal payroll tax, benefit and workers compensation carrier payments, and all of those routine "numbers" matters that are a cost of doing business you would rather not have to worry about.
Because we are responsible for filing your payroll, unemployment, and workers comp taxes, you don't have to worry about missed line items or bad math. Our finance and tax team will provide all the help you need.
Get Comprehensive Support from Questco
With Questco, your company can get the support you need for a very affordable price. In fact, the average ROI of working with a PEO like Questco is 27.2%, meaning your HR outsourcing pays off.
Our professionals can help you with payroll taxes, workers' compensation, benefits administration, safety training, onboarding, risk mitigation, labor posters, and more. Partner with Questco to get the HR support your company needs to thrive.