As an organization continues to grow, the effective management of employees becomes increasingly complex. Multiple software platforms are required to manage payroll, open enrollment, recruitment, and other HR-related functions. The need for a streamlined, efficient solution to the challenge of employee management is becoming more and more pressing. Fortunately, there is an answer: professional employer organization (PEO) software.
A professional employer organization provides a single sign-on, cloud-based platform that integrates all HR functions. This allows business owners to manage all employee needs from one centralized location.

What is a PEO?
A PEO is a type of human resources (HR) outsourcing firm that offers integrated services, including payroll, benefits, and human resources guidance.
PEOs offer a wide range of services to help employers focus on growth instead of paperwork. Services include:
Processing payroll

: PEOs can handle payroll processing and calculate payroll taxes and withholdings.

Employment tax filing

: PEOs can help employers file their employment taxes with government agencies and ensure compliance with federal, state, and local regulations.

Risk management

: PEOs can help employers manage risk by providing access to workers' compensation insurance, unemployment insurance, and other risk management services.

Group health insurance

: PEOs offer Fortune 500-level health insurance at a lower cost than a corporation could achieve on its own.

HR compliance

: PEOs can help employers stay up-to-date with changing laws and regulations. It'll ensure that an employer's HR practices comply with federal, state, and local regulations.
What Does PEO Software Do?
The software takes it one step further by enabling business owners to manage their talent better.
Time and Attendance
One of the software's primary features is its time and attendance capabilities. This allows businesses to track the hours their employees work and when they take breaks and vacations. The software can also generate reports about employee attendance for managers to review.
Talent Acquisition
PEOs are also equipped to help businesses find and recruit the best talent. With applicant tracking software, you reduce the time you need to hire employees. You can post jobs on sites where candidates are looking for you or get a careers page on your website. From the dashboard view, you can review all applicants, send messages, and schedule an interview for your preferred ones.
Onboarding
Once a business has found the right people, the software can help with automated onboarding processes. This includes generating contracts, setting up employee profiles, and other tasks associated with welcoming new hires to the company.
Talent Development
The software is also ideal for developing employee talent. It can provide performance reviews, track employee progress, and offer feedback to ensure employees are reaching their goals.
Off-boarding
It can also help when it's time to part ways with an employee. The software can generate termination paperwork and update employee records. This helps to ensure that the process is handled correctly and that all necessary documents are collected.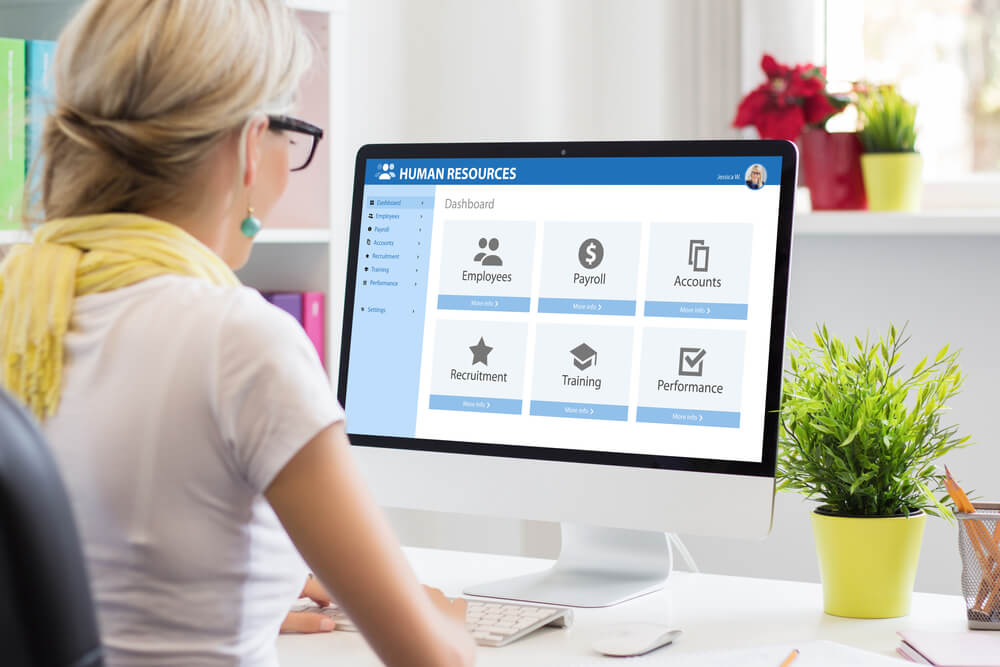 What are the Benefits of PEO Technology?
PEO technology offers many benefits that can help companies boost their performance and increase their bottom line. They include:
Ensuring Accuracy
The technology ensures that data is entered, stored, and accessed quickly and accurately. This helps reduce the risk of errors, which can be costly and time-consuming. It can also ensure compliance with regulations and policies, which can help to protect the company from legal issues. 

Even better, integrating payroll and time & attendance means not having to re-enter information. That drastically lowers the chances of a mistake.
Managing the Employee Lifecycle
PEO technology allows companies to manage recruitment, onboarding, training, and exit processes. It can also help to automate administrative tasks such as payroll, benefits administration, and employee reviews.
Reducing Administrative Burdens
The software automates many administrative tasks associated with managing employees, which can free up time for business owners to focus on other business areas. Automated processes help to ensure that your organization treats employees fairly and equitably.
Choosing Your Best Solutions
Managing payroll, benefits, and other human resources matters can be difficult and time-consuming. That's why Professional Employer Organizations and their HR software have become increasingly popular.
PEO software solutions provide businesses with a single sign-on solution to manage payroll, track vacation days, onboard employees, and more.
At the same time, PEOs offer a comprehensive suite of services going beyond what HR software offers. It acts as an outsourced HR department and provides a full suite of services from access to group health insurance to retirement plans.
You can focus your resources on other important business areas by outsourcing your HR administrative burdens to a PEO. That means increasing your productivity.
Please note that the information presented above is not intended to be specific, technical, or professional advice. Our aim is to educate and provide insight into relevant topics.