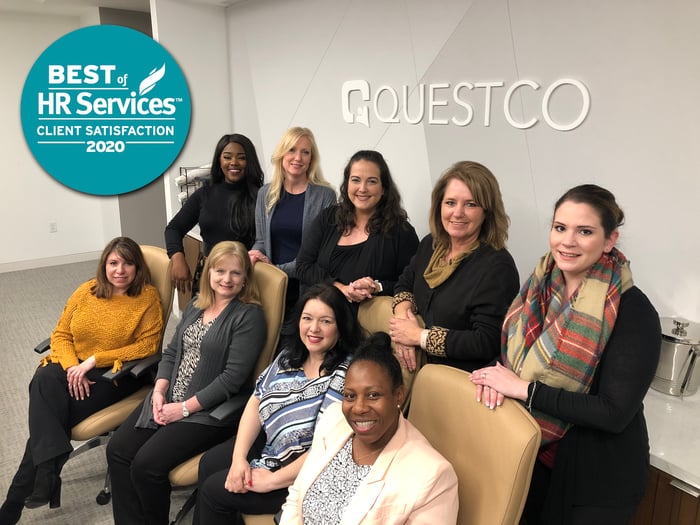 We are proud to announce that Questco has won the Best of HR Services Award for providing superior service. ClearlyRated's Best of HR Services® Award measures the success of outsourced HR partners solely through ratings provided by clients for the year through Net Promoter Score®️ (NPS) surveys.
The NPS measures how likely a client is to recommend an HR outsourcing partner to a friend or colleague. Out of a scale of 1 to 10, a staggering 79% of Questco's reviews were either a 9 or a 10 (promoters). The HR outsourcing industry received 9s and 10s an average of 42% of the time. That means the average HR outsourcing partner received 9s and 10s less than half the time while Questco received 9s and 10s more than 7 out of every 10 times.
The difference is even starker when all scores are analyzed. The average outsourced HR company NPS score was 16.0%. Questco scored 71.7%, four times higher than the industry average.
ClearlyRated's Best of HR Services® Award helps prospective clients differentiate between average outsourced HR companies and industry leaders - as evaluated by each firm's clients..
"Now more than ever, providing a consistently remarkable client experience is critical for HR service providers," said ClearlyRated's CEO Eric Gregg. "All HR providers attempt to deliver great service - Best of HR Service winners have proven it."
Our Questco clients enjoy a comprehensive set of offerings, including access to large group medical benefits and group workers' compensation insurance, expert HR advice, access to user-friendly HR technology, payroll, tax and benefits administration, employee liability and risk management programs, and 401(k) programs.
We consider the success of our PEO clients paramount. As our scores demonstrate, we fulfill and exceed client expectations with our service and offerings. And that is just one part of the Questco Difference.