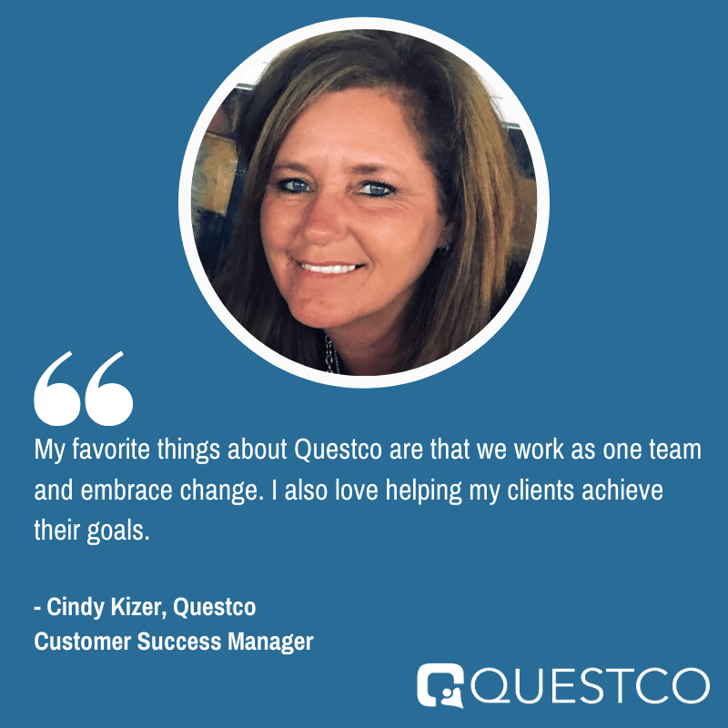 At Questco, we pride ourselves on hiring the best people so that we can do the best work for our clients. It's important to us that we highlight those that go above and beyond in their roles so that you can get to know them too! Every month we'll be featuring a new Questco employee who has exhibited our core values and contributed to the success of our clients.
This month we are excited to introduce...
Cindy Kizer
Customer Success Manager
1. How would you describe what you get paid to do, without saying your job title?
I help build trusted relationships with our Questco clients to ensure they are having success.
2. What 3 words would your clients or colleagues use to describe you?

Positive, understanding, helpful
3. What is your favorite part about your job?

I enjoy helping my clients achieve their goals!
4. What part of the Questco culture or core values do you love most?

I love that we work as a team and embrace change.
5. What tips would you give to a company new to using a PEO or outsourced HR solutions?

I would say to utilize your service team members. Always let the PEO do the job you hired them to do so you can run your business.
6. Are you an extrovert or introvert?
7. What is one thing you could never live without?

I couldn't live without coffee
8. When you're not at work, what are you doing?

When I am not at work, I am enjoying the outdoors
9. Name one fun/odd fact about yourself?

I am a mom of 4. I have 2 boys 2 girls.
10. When you were a child, what was your dream job?

I always dreamed of working at a grocery store so I could talk to all the customers and help them.
Cindy stands out through her hard work, and dedication to our mission and our clients. Thank you for all that you do, Cindy! Questco is lucky to have you. We look forward to another year of success with you!
Don't miss out on the next employee spotlight, or other educational articles written for business leaders like you. Subscribe to our blog weekly updates
here
.